Of all the countries of Sub-Saharan Africa, Namibia is arguably the most comprehensively tourist-friendly. Not only does it have exceptional wildlife – including a quarter of the world's cheetahs and the last free-ranging population of black rhino – and a well-developed network of parks, reserves and safari lodges, but the landscapes of its coastline and deserts are some of the most photographed and gasped over in the world, meriting a visit in their own right. Traditional culture remains strong here despite successive colonial occupations by Germany and then South Africa (Namibia gained independence from the latter in 1990) and, for many visitors, meeting the Himba people in the far north-west, or the San (formerly Bushmen) of the Kalahari, is an enriching and humbling experience. – The Telegraph
GENERAL INFORMATION
Independence: March 21, 1990

Current President: Mr. Hage Geingob

Secular State – Freedom of Religion (90% Christian)
DRINKING WATER
Most tap water is purified and safe to drink

Visitors should exercise caution in rural areas
MEDICAL SERVICES
International SOS:

Windhoek: 061 230808 249 777

Netcare: 061 22 333 0

Swakopmund: 064 400 700

Tsumeb: 081 128 5501

Walvis Bay: 064 200 200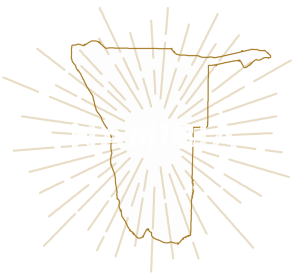 11 FUN FACTS ABOUT NAMIBIA
Namibia is home to the world's largest population of free roaming cheetahs (~2500-3000)

The country gets its name from the Namib Desert – one of the world's oldest deserts.  No one knows exactly how old it is but scientists have identified that sand has existed in the desert for over a million years!

Namibia is the second least densely populated country in the world. It has  a population of ~2 million in a country that is more then twice the size of Germany.  Only Mongolia is less populous.

Would you visit a place in Namibia called the Skeleton Coast? Named so in previous times for all the whale and seal skeletons lining the coast, there would have been a few humans ones there as well.  It's famous for shipwrecks due to blinding fog.  Over 1000 ships met their end here.

Namibia was a German colony, then captured by South Africa in World War I.  It became independent in 1990 – just over 25 years ago.

Despite its low population, Namibia is still home to 13 different ethic groups –  including the Himba, a nomadic and traditional people whose ways have changed little over the years due to their seclusion from outside influences. They only came into contact with Western influences a mere 15 years ago.

Namibia is the first country in the world to incorporate environmental protection into its Constitution. The result of this has many community based tourism initiatives that provide social and monetary benefits to the communities and an authentic experience for visitors.

Namibia is one of only two countries in the world that has desert elephants! They're not a separate species, but he IUCN has identified them as a high priority.  They've adapted to their semi-desert environment by developing a smaller body mass, longer legs and larger feet – enabling them to travel for miles across sand dunes to reach water.

Did you know that there are two different styles of sand boarding? Namibia has both.  The easiest, but perhaps scariest is lying down and heading down the dune headfirst.  You can reach a speed of up to 80km/hr! The second is standing up, which is slower, but more difficult to master.

Sossusvlei Sand Dunes are some of the highest in the world and one of Namibia's most impressive sights. Big Daddy is the largest dune in Sossusvlei measuring ~325m and also visit Dune 45, known as the most photographed dune in the world.

Namibia is home to the world's largest population of free roaming black rhinos.