WADADEE EXPERIENCE
Wadadee African Safaris is an inbound tour operator, based in Windhoek, Namibia. Our base is the Wadadee House located in the historical township of Katutura. The company consists of two components: Wadadee African Safaris, Wadadee House and Wadadee cares.
Wadadee has a special responsibility to develop sustainable tourism and promote development in our community.
Wadadee is currently the only guest-house that intentionally attracts international tourists, and for these reason we are very protective of any students, volunteers or travellers that come and stay with us.
WHO WE ARE
The name Wadadee is a modern version of the original word in Khoe-khoe Gowab , Hoatadi, meaning it is everybody's. Wadadee prioritises convenience and excellence in all its services.
Wadadee's vision is to contribute to the development of Namibia through the promotion of meaningful tourism activities, enhancing the social and cultural capital of communities. Wadadee's mission is to bring affordable, community based accommodation and tourism to Namibia. Guests are provided with a unique and authentic Namibian experience that bridges the gap between locals and tourists.
WHAT WE DO
The success of these endeavors opened a new dimension of thinking and doing at Wadadee. Currently, we accommodate more than 25 students from all over the world at Wadadee Guesthouse. Most of them are volunteers supporting different kind of welfare projects in Katutura. Our Team of Wadadee cares organizes a volunteer program for everyone who would like to help the less fortunate people. The whole stay in Namibia can be planned and organized individually so that our guests have enough time to experience the country in many exciting tours throughout Southern Africa with Wadadee African Safaris. Wadadee is a collective experience that remains on your mind forever.
OUR JOURNEY
Wadadee's journey started off with the Wadadee House, accommodating volunteers
to Namibia for an extended period. After witnessing the visitors need to explore Namibia we offered camping safaris to the main attractions. These trips created a constant hunger for more travel, which encouraged numerous trips through other countries; Botswana, Zimbabwe and Zambia. These efforts led to the establishment of Wadadee African Safaris, that takes you on a journey through nature's sensations. Over the past years, we had so many wonderful volunteers coming to Wadadee with the mission of helping people in Katutura sustainably. Experiencing their passion about changing the face of our home for the better and having an impact on peoples lives, made us establish Wadadee cares, our little NGO sending volunteers to several welfare projects in Katutura.
ABOUT KATUTURA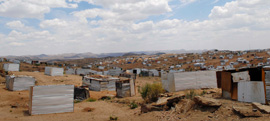 You will notice throughout this website, we have consistently referred to guests as family members, at Wadadee we look to incorporate all arriving guests into the family, creating a positive atmosphere that welcomes you to Katutura and to Wadadee.
Our approach to community development is very similar, by bringing tourists to Katutura we can change many incorrect perceptions. as well as contribute to the economic development of the community creating higher standards of living and alleviating poverty. The history of Katutura is negatively scarred by the systematic racialism created by the apartheid system, so by bringing tourists to the community we can help to break down some of the barriers that exist between different racial groups.
FACE OF CHANGE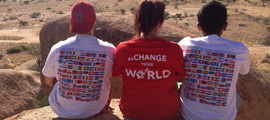 Often life long prejudices can be eliminated through one simple conversation with someone of a different race/sex/sexual orientation.
This type of change is not just isolated to Katutura, when Wadadee family members speak to people unfamiliar with Katutura, who live in other parts of Windhoek they become an ambassador of Katutura and can breakdown the incorrect perceptions associated with safety, friendliness and identity (among other things). You will find once you are in Katutura, a number of the negative stereotypes you might have heard prior to arrival were in fact incorrect, and that quite the opposite is the truth.
EMPLOYMENT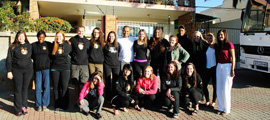 The long term goal is to make Wadadee a focal point of tourism in Katutura, attracting even larger numbers of tourists, which should encourage the growth of secondary businesses that complement the tourist industry and contribute to job creation and a reduction in the unemployment. Currently Wadadee employs nine people, almost all of them from Katutura, these people all have families that they support and are reliant on their income generated through working at Wadadee. All of our workers earn more than the minimum Namibian wage, and each of them are an integral part of Wadadee. Moreover, through future growth projects (currently in the pipeline), Wadadee aims to create both short and longer term jobs, through continued investment Wadadee will continue to support Katutura and continue to change peoples lives.
OUR AIM
Our aim is to develop and encourage a tourism market in Katutura that attracts visitors, which will result in job creation to alleviate unemployment and significantly improve the standard of living of our fellow citizens.
In order to do this, Wadadee pursues a vision of sustainability, that not only involves working towards growth in the area, but also consultation with community partners and neighbours to get their input on our impending growth. Wadadee adventures prides itself on taking friends on environmentally sustainable tours.
PRESERVATION
Wadadee only travels to national parks, that aim towards conservation and preservation of some of the most unique ecosystems in the world. Moreover, by only going to these parks, we make sure that our money only goes towards agencies designed to preserve the national parks for the next generation. While on tour Wadadee only cooks with gas, in a country like Namibia, with existing resource shortages, we have chosen to only cook with natural gas.
EDUCATION
Education is a very important point when it comes to poverty eradication. As many people from Katutura never experienced a proper education, it is nearly impossible for them to find a job and to care for their families. For this reason, we pay special attention to teaching English to all children in all our projects and to assists adults in getting access to the educational system. Education is the key to find the way out of unemployment, sickness and poverty.